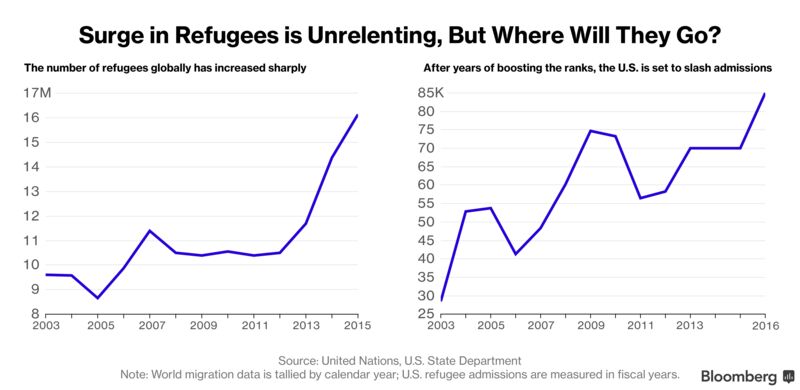 As nations the world over struggle to accommodate, or stem, the flow of a record number of migrants, economists are trying to make sense of the surge in data on how both refugees and the communities they land in are impacted.
More than 16 million new refugees sought homes around the globe in 2015, stoking a debate that cuts across security and economic lines. Under President Barack Obama, the ranks of refugees in the U.S. swelled, while President Donald Trump has worked to slash those figures.
The forces that helped propel Brexit in the U.K. and Trump to the White House primarily focus on fears of foreign danger. At the same time, some economists are joining the chorus of refugee and immigrant advocates who have long argued that these individuals have the potential to help lift their new economies.
Getting a sense of whether and how refugees and other immigrants make an immediate or long-term positive contribution to their new economies is a herculean task, for several reasons: Many academic studies are focused on a single economy; refugees' skill sets and education often aren't comparable to other migrants; and refugees' tiny share of the population in most every U.S. community they enter makes it difficult to discern any impact.
With these caveats in mind, below are a few studies worth perusing to understand where the academic battle lines are being drawn on this issue. The analyses largely suggest that the foreign-born the U.S. can provide the right medicine for a struggling locale, bringing with them an especially strong enthusiasm to get jobs, buy houses, and integrate into an economy that presents more opportunity than their homelands.
However, the swelling collection of literature on refugees and immigrants in the economy also reveals the many special factors that can impact whether an immigrant sinks or thrives in a new economy.
SOURCE: Jamrisko, Michelle. "How Economists Are Fueling the Global Debate Over Refugees." Bloomberg Markets, 17 February, 2017
BroCAP is produced by the two librarians at the Brotherhood of St Laurence in Melbourne, Australia.