Extract from an article by Leith van Onselen
For years the growth lobby has argued that Australia needs to run high levels of immigration in order to alleviate so-called skills shortages and to mitigate an ageing population, despite the Department of Employment showing that Australia's skills shortage "remains low by historical standards" and Australia's labour underutilisation rate tracking at high levels: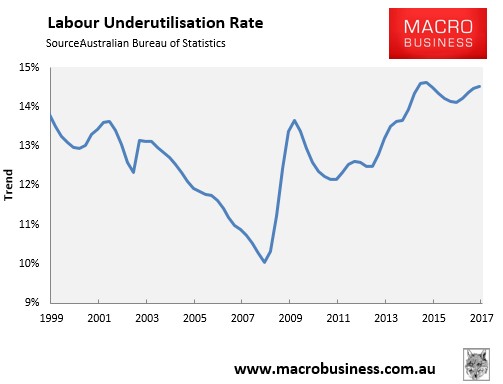 One factor the mass immigration supporters continually ignore is the risk that the rise of robotics and artificial intelligence could replace many of today's jobs, leading to an even larger pool of underemployed and underutilised workers.
Earlier this year, Seek's chief executive, Andrew Bassat, warned of an "employment crisis" whereby not enough jobs will be created to replace those expected to be lost through the rising use of robotics, especially in areas like mining, hospitality, accommodation and transport.
A similar theme was picked up over at The ABC.
Already, Australia's construction sector is gearing-up, with FastBrick's Hadrian X bricklaying machine capable of laying up to 1,000 bricks an hour.
Clearly, the rise of robotics and automation debunks the claim that Australia needs to import large swathes of skilled workers to overcome an ageing population.
The reality is likely to be the opposite: too many workers chasing too few jobs as robots and artificial intelligence take over. So why, then, is Australia running one of the highest immigration programs in the world, especially given the extreme pressure that it is placing on infrastructure, housing, schools, hospitals and overall livability? (continues)
SOURCE: Leith van Onselen, "Automation or immigration the cure for an aging population?", Macro Business, 08 Sept 2017
---
Produced by the librarians at the Brotherhood of St Laurence in Melbourne, Australia